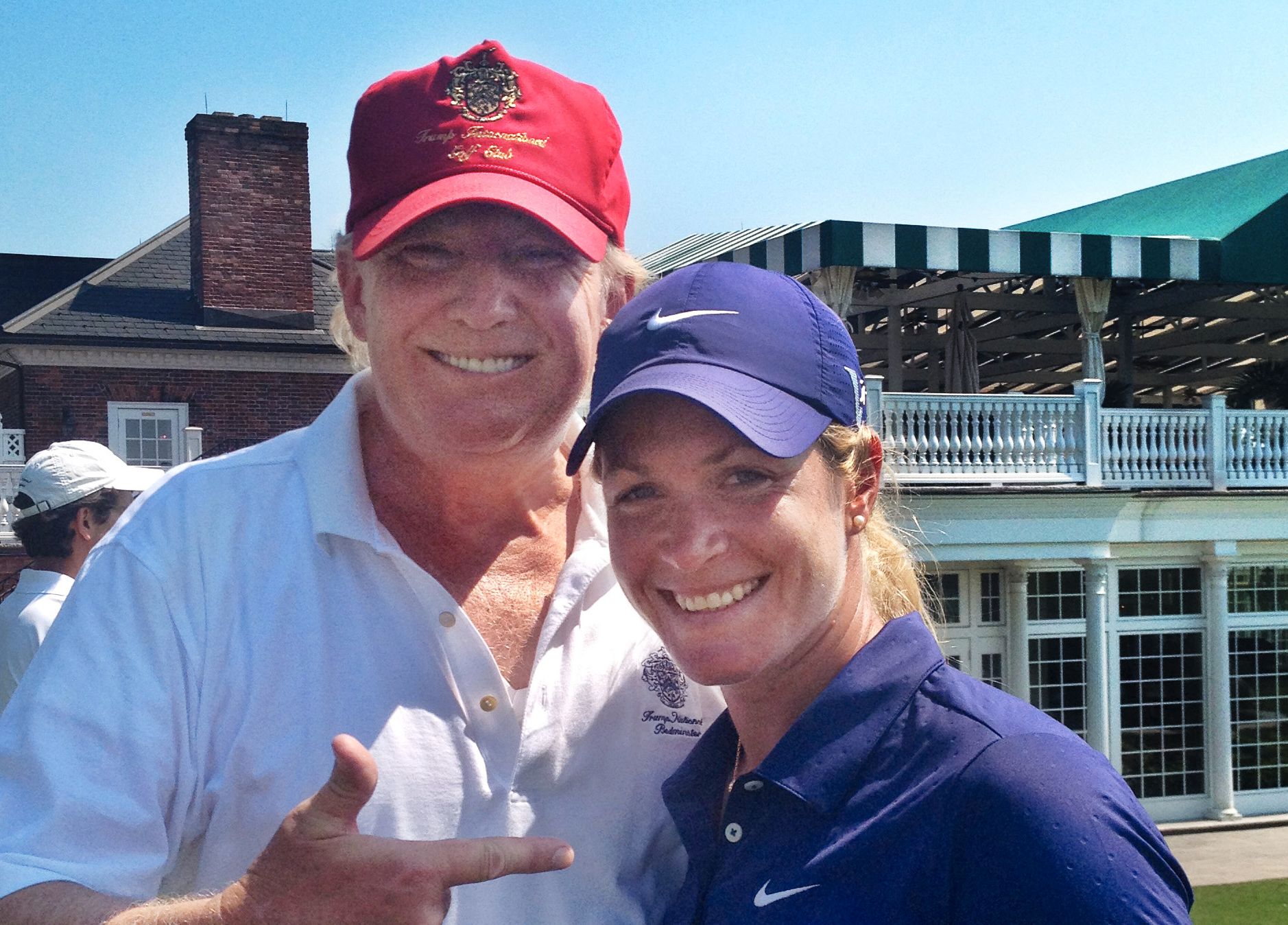 LPGA-star on Trump: «He cheats like hell»
He skips putts, replaces his ball and doesnt care at all about the rules. But Donald Trump is still a joy to play golf with, his close friend Suzann Pettersen reveals.
Artikkelen er over to år gammel
«I don't know anyone who loves himself more than he does,» Pettersen, nicknamed Tutta, tells the Norwegian newspaper Verdens Gang.
We're sitting in the restaurant of the exclusive Bay Hill Club & Lodge in Orlando, Florida, a few long fairway drives from where the Norwegian golf ace lives, discussing her close relationship with the president.
It's a friendship that goes back more than 10 years. They have played several rounds of golf together. Before becoming president, Trump called Pettersen at least once a month. And in the year since he became president, they have met twice.
VG exposed the largest child sexual abuse forum. It was run by the police.
Suzann Pettersen likes Donald Trump as a person. She describes their bond as «a very personal contact». She likes playing golf with him, even if he does brazenly violate golf etiquette.
«He cheats like hell ... so I don't quite know how he is in business. They say that if you cheat at golf, you cheat at business. I'm pretty sure he pays his caddie well, since no matter how far into the woods he hits the ball, it's in the middle of the fairway when we get there,» says Pettersen, laughing heartily in the half-full restaurant.
She has paid lavishly for membership in the club, which exudes old-time golf glory. Neither cash nor credit cards are accepted as payment. Everything goes onto the member's account.
Enjoys kidding
One after another, members drop by the table to exchange words with the golf star, now entering her 15th straight season on the LPGA tour.
So even if Trump obviously hits the ball into the woods, it ends up in the middle of the course?
«Every time.»
Mystery at the Oslo Plaza
Trump is also known for skipping over his final, decisive putt, so there's no risk of having to add a stroke to his scorecard.
It's a habit Tutta confirms later as we settle into her vast luxury home on Big Sand Lake, with the sun setting over the water.
«Yes, yes, that happens all the time. He always says he is the world's best putter. But in all the times I've played him, he's never come close to breaking 80,» Pettersen says of the president, who golfs with a 3 handicap.
«But what's strange is that every time I talk to him he says he just golfed a 69, or that he set a new course record or won a club championship some place,» she says. «I just laugh. I'm someone who likes being teased and I like teasing others, and Trump takes it well, and that must be why he likes me.»
Not everyone appreciates Tutta's fondness for Trump, as became clear when he won the presidency and she congratulated him on Twitter. «Hats off for this man, Mr. President, congrats my friend,» Pettersen wrote.
Monthly call
Hate and fury came her way.
«I was only congratulating a friend for winning the presidential election in the United States, which after all is quite something. I would have done the same for another friend who got a new job or a new position. But due to the huge number of negative reactions I removed the tweet. Then, after giving it some thought, I tweeted it back out. Surely I get to congratulate a person I know for that.»
Lots of people who responded to the tweet wondered how you, as a woman, could give support to someone they consider a misogynist?
«I've got to know Trump so well that I don't take everything he says literally. Yeah, you'll never meet another person who loves himself as much as he does, but I have also met him on another level altogether, before he was president. I know how much he cares. He called me once a month and asked how things were going. It was always about golf. He is totally golf-crazed. Golf is the only thing the man thinks about,» says Tutta, not exactly surprised that Trump has been on the golf course 94 times in his first year as president.
While showing us around her home's six bedrooms, impressive gym and beautiful backyard practice area, she freely says that she's no fan of Trump's policy:
«I'm not a supporter of what he says or stands for. I thought it was very strange during the presidential campaign that he wasn't smarter about how he communicated. He could have won more easily, but made some blunders with his statements. That's because he is so stubborn. He has not changed five millimetres since becoming president.»
The 36-year-old describes what would happen if Trump suddenly appeared in the room. First he would talk about old golf matches they had played against each other.
«And then he would say that Celina (Midelfart) was his greatest love. He has told that same story a hundred times ... If you would ask her, the story is no doubt completely different.»
Respect for the businessman
She is also grateful for everything Trump did for women's golf. Trump was one of the LPGA tour sponsors, but withdrew when he felt they wanted too much money from him.
«That's how we got to know each other. And during one of the tournaments we stayed at Mar-a-Lago, which was the official golfers' hotel. When we met him on the driving range, he always said, 'Make yourself at home' – meaning at Mar-a-Lago. I got influenza the first time I was there. Then he came into my room and asked how I was, though that was the last face I wanted to see as I lay there sweating.»
But he always behaved properly around you?
«I'm not so touchy about things like that ... I'm sure he has said things that can be hurtful to a lot of people, but I take everything he says with a pinch of salt. I know where it's coming from.»
She also has great respect for him as a businessman. And more than a few times, Suzann Pettersen has asked Trump for advice.
«To me personally, he has been extremely helpful. He has given many good answers to things I've wondered about. I am running my own AS (company) and have been in several situations where I have zero experience. He has then sincerely tried to help me with my decision. And I've learned lots from him.»
Finding her form
There was one incident that left her unimpressed, however. As they golfed together at Trump National in Los Angeles, she saw Trump fire a course worker who he thought didn't do his job.
«Trump had been on the same course earlier in the year and felt bothered that it was hard to see what was on the TV screen inside the golf carts. He wanted the screens adjusted to have less glare from the sun. When he saw this had not been done, the poor fellow was told, 'I'll see you after the round – you're finished!' There was no mercy.»
Nevertheless, she is pleased they have stayed in touch. When both were in Japan last year – he on a state visit and she in a golf tournament – Trump sent word for her to «call me» before it seemed to dawn on him that he was president and corrected himself to, «I'll have my people contact you.»
«I have met him twice after he became president. It's a very personal contact. It's nice that we have not lost that,» says Pettersen, preparing for another short-game practice session in her garden.
She has three weeks to find her form before the season begins in Thailand. She needs it. In the last three seasons, she has plunged to 33rd place in the world rankings and earned gradually less prize money, the measure of golf success.
«The past two or three years have been very frustrating. It's been a long time since I won. In the past it was always my putting that fell short. In recent years it's been the long game, too – and that's unacceptable. But now I have got a new putting coach who also serves as a mentor. I have played much better since meeting him,» says Pettersen, who has won $15 million on the LPGA tour.
In any case her self-confidence is fully intact. Suzann has her sights set on three more major titles – and an Olympic medal – before hanging up her clubs.
Kommersielt samarbeid: Rabattkoder