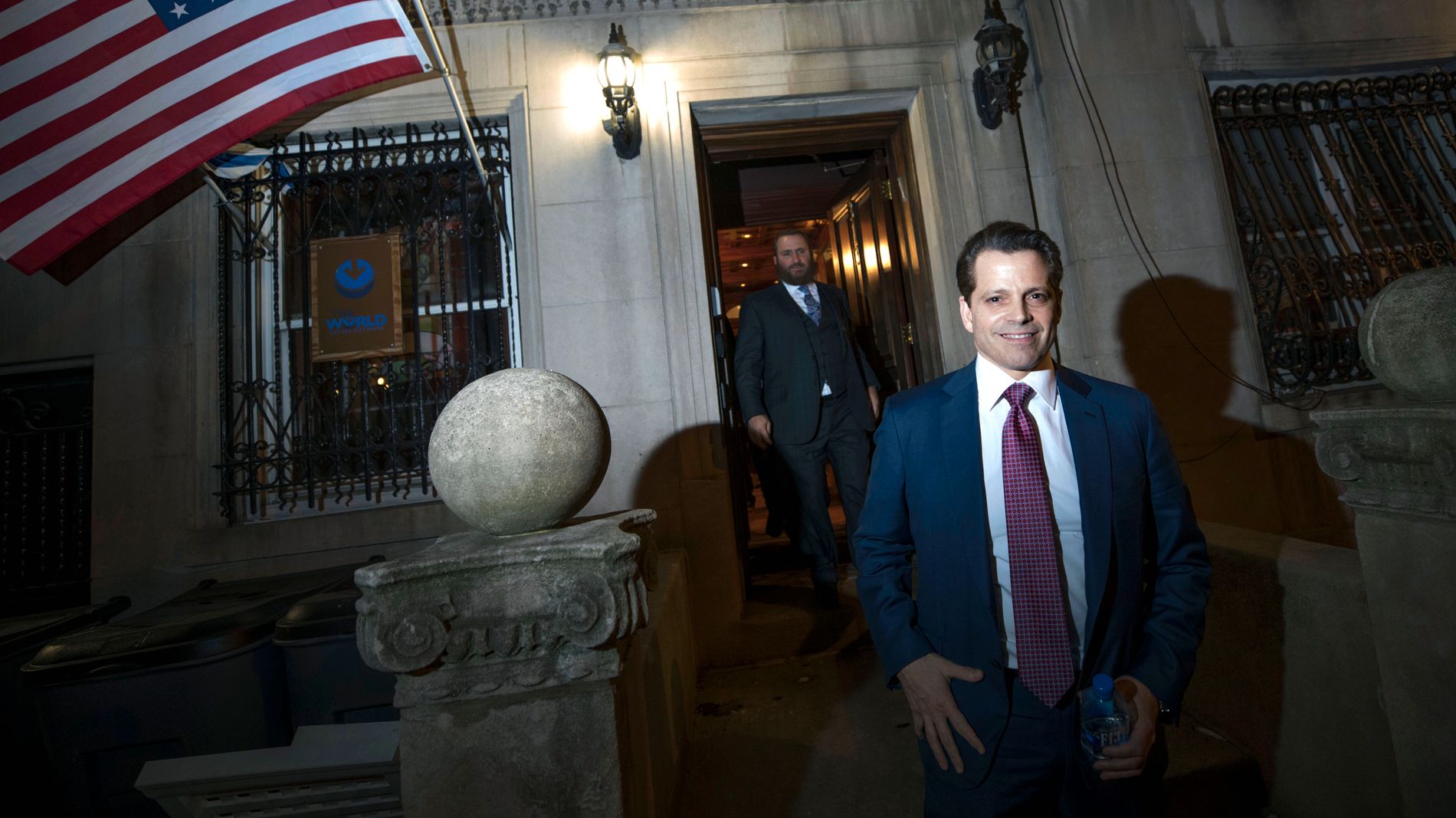 Scaramucci: «It hurts my feelings when people say I only was press secretary for 10 days. It was eleven days»
NEW YORK (VG) Heading into his black and shiny Bentley SUV, Anthony Scaramucci (53) makes the peace sign. Getting fired by Donald Trump has not hurt his self-confidence.
Artikkelen er over to år gammel
In an exclusive interview with VG in New York, the man who lasted eleven days as press secretary in the White House does not hold back.
Not at all.
The Wall Street banker does not regret the scandal that led to his dismissal. He calls Steve Bannon «a loser», and talks about his many conversations with the President.
He also reveals that he and his wife are back together after she filed for divorce while she was pregnant with his baby this summer.
That New Yorker-interview

– I don't regret anything. Not even that I made that phone call to Ryan Lizza. Remember, Trump gave me the mission of stopping the leaks from the White House. To fire the people behind them, Scaramucci says.
In the end, he was the one who had to leave.
Scaramucci is wearing a blue, tailored suit. Around his left wrist he has an expensive Breitling-watch. His tie is almost as long as the one president Trump prefers.
Ryan Lizza was a profiled writer for the magazine The New Yorker, who one night tweeted who Trump had dinner with. A short while after the tweet was posted, he got a phone call.
It was Scaramucci.
The newly hired press secretary wanted to know who had leaked the information, and he unloaded on several people in the White House staff. Lizza taped the conversation, and published all the quotes.
A couple of days later, Scaramucci was fired.
– It hurts my feelings when people say I was press secretary for ten days. It was eleven days, Scaramucci says – and grins.
– Stabbed in the back

Scaramucci is half-italian, but grew up in Long Island. He says that he has never taken himself too seriously and has plenty of self-irony. Friends call him «The Mooch», and he takes full responsibility for what happened that night.
– My father has known Lizza for 50 years. I thought we were speaking off the record. I do not like it when people stab you in the back. I apologized for my language to president Trump, but everybody knows that what I said about those people is true.
One of the things he said in the phone call was that he was «not Steve Bannon, I am not trying to suck my own cock». He also said that then chief of staff, Reince Priebus, was a «fucking paranoid schizophrenic».
– Did you tell Lizza that the conversation was off record?
– No. Never. I didn't think I needed to.
He calls it «karma» that Lizza later lost his job in The New Yorker after accusations of sexual harassment.
Shot from the inside

«The Mooch» describes himself as a person who speaks from the gut, and he stands by everything he has said and done. He never says he has been badly treated – because one «cannot allow that in politics or sport».
He continues to talk about the «46 minutes when I debuted on the stage» in the White House press room, where he «talked to 42,5 million people» and threw kisses to the reporters after finishing.
One of many memorable Scaramucci-moments.
– The problem was that people wanted me gone because I had a voice. I was shot from the inside and had to leave because of the negative focus.
The main problem was Steve Bannon, Trumps former chief strategist, who now travels around the country to get Trump-friendly senators elected.
– Bannon was my friend in the White House, but he was the first who stabbed me in the back. He is a looser. The only thing that I like about him is that he identified the poor middle class families who struggles in the United States. This has been useful for Trump. But I know the guy. He is very far right, and needs to be watched, Scaramucci warns.
Still talks to Trump

He still talks to Trump. Last time was this Monday, two days before the tax-reform was passed in congress.
– I can reach him if I want to. If I call him, he either answers at once, or calls me back after a couple of hours. We are good friends. Monday he called to thank me for talking positivly about him and the tax-reform on television.
He praises the president.
– I had a fantastic time with Trump. He is a very open person, very easy to be around. He is funny. I love the president. I often get criticized when I say that, but since I'm half italian I'm allowed to say that. We have at least one thing in common – we do not like politicians. He only cares about the American people.
– Critics will say the only cares about himself...
– He is past 70 years old and a billionaire. Why would he want to be president, lose millions of dollars and time with his family, if it wasn't to help the American people? Yes, he likes power. I see that. But he has given up his old life for this, Scaramucci says.
- Trump has a big mouth

He does not understand why people still reacts to Trumps controversial tweets.
– Trump has a big mouth and hits so hard that the media runs around in circles without getting anywhere, he says.
– There is nothing you can say or do that will change his personality. There is only one Donald Trump. He has a very direct way of saying things, and I think people like that because they want to hear the truth. Trump tells the truth, Scaramucci insists.
– He has just passed a very unpopular tax-reform, according to most polls. What would you do as press secretary said about the way this reform has been sold to the American people?
– I do not work at the White House anymore, but when people understand that this is something that will strengthen American businesses and boost the economy, they will be very happy. The average American will get a 1000-dollar tax cut.
Scaramucci thinks Trump gets to little credit for the relationship he has built with Russia and China, especially considering the situation in North Korea. He also thinks Trump did the right thing when he acknowledged Jerusalem as Israel's capital.
– What about the investigation of a conspiracy between Trumps campaign and Russia?
– The FBI has worked on this for at least a year. They have not found evidence of anything.
– Four people who worked for him is charged in relation to this investigation.
– The charges are about lies in the interrogations with the FBI and something that happened before the campaign. Remember, I worked in this campaign since February 2016 and I never saw anything connected to Russia. Not once.
Dismisses career in politics

Many have speculated that Scaramucci is looking for a career in politics, something he dismisses firmly.
– I am turning 54 in a short time and have a fantastic life with plenty of success. Why should I expose myself to that? I think the political system in the US is completely rotten. The system with democrats and republicans does not work. The media would jump back on me, also. I am way to honest, which you might have noticed.
He has no problems talking about his private life. Last summer it was widely reported that his second wife, Deidre Ball (38), had filed for divorce while pregnant with his child. They are now back together, and Scaramucci openly talks about their relationship.
– We are working hard to make it work. We have to forgive each other first. I love my wife, but I have made mistakes. I have asked for forgiveness. The best thing for our children would be that we made it work. I think people in today's society divorce to easily.
Working on a new book

Before meeting VG for this interview, he attended one of his sons Christmas party at his school. Professionally he is working on a complicated sale of the investment-company SkyBridge Capital to Chinese investors.
– Everything is fine; the government just has to accept it. I do not think there will be any problems, Scaramucci says about the deal that will make him even richer.
He is worth between 60 and 80 million dollars, according to the disclosure forms he had to deliver when he was hired press secretary. He has also started writing a new book – his fourth. It will be called «The twelfth day». What was his most memorable day in his eleven days at the White House?
– I was on my way to Youngstown, Ohio in Air Force One with president Trump. We were in the presidents private study, and he noticed I had a sore throat. The president is scared to death of getting sick. He is a germaphobe. He pushed a button, and in came a sickbed, a doctor and two nurses.
– They pulled my pants down, and gave me two shots in my ass. One with penicillin and one with cortisone. So there I was, with my pants down in the plane of the most powerful man in the world, Scaramucci says with a smile on his face.
Kommersielt samarbeid: Rabattkoder