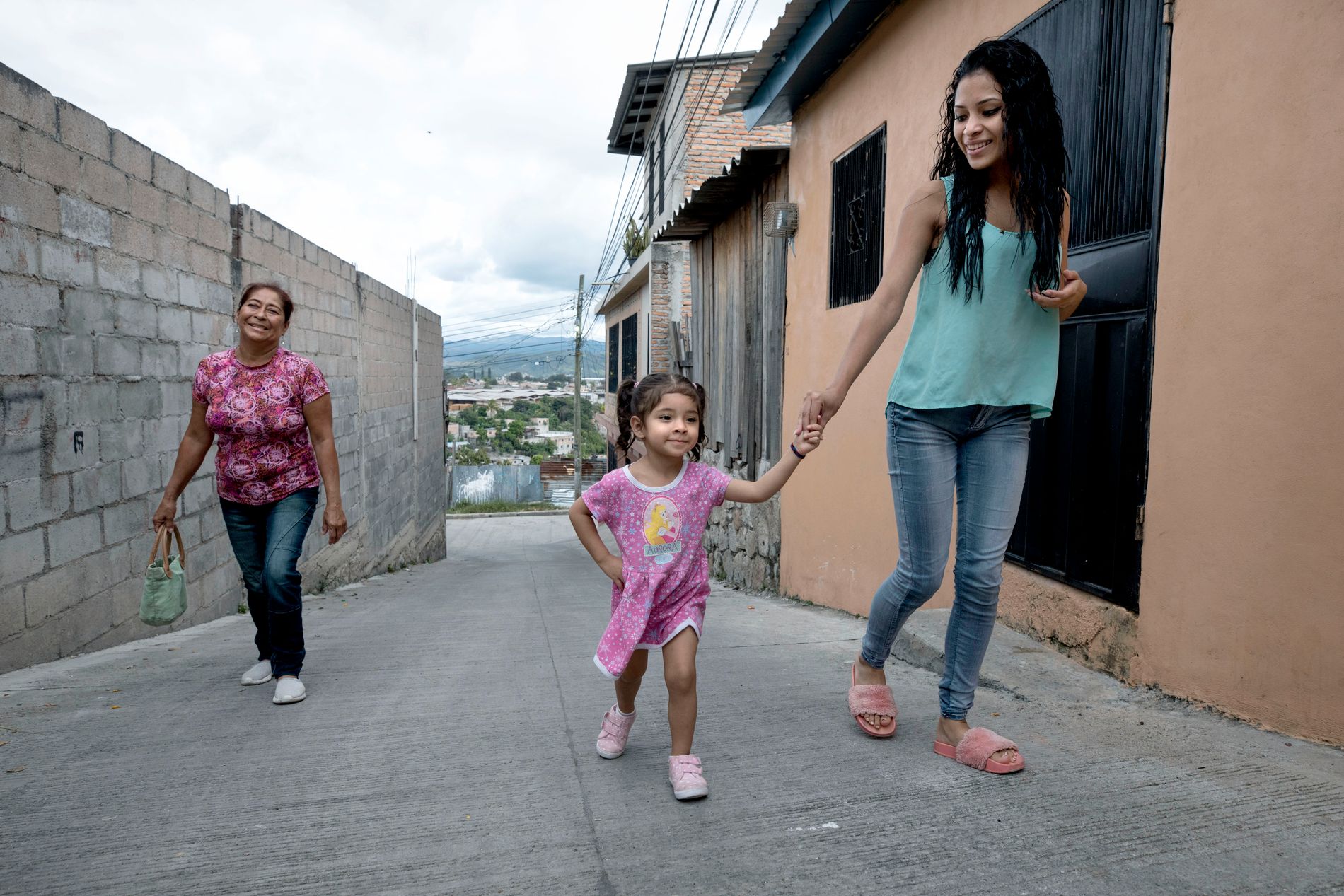 Do you remember two year old Fernanda? Here's what happened to her
TEGUCIGALPA, HONDURAS (VG) The story of two-year-old Fernanda Jacqueline Davila shocked the entire world. She's now back with her mother in Honduras.

Artikkelen er over ett år gammel
"It's a miracle that Fernanda is home again," says her mother, Alison Michelle Davilla (21) and paternal grandmother, Amada Vallecillos.
VG tracked the family down in a poverty-stricken, gang-controlled suburb on the outskirts of Tegucigalpa, the capital of Honduras.
The now happy and sociable little girl, with pigtails and a pink dress, was separated from them for three months.
les også
Marjory (19) killed by gangsters in violence-ridden Honduras
For many people, she symbolised the Trump administration's controversial separation policy that resulted in hundreds of young migrant children being forced to appear before American courts with no one but a public defender by their side.
The children were separated from family members after attempting to cross the border illegally.
The New York Times wrote about Fernanda's day in court on September 27th in New York. The heartbreaking story and image of the little dark-haired girl, tightly gripping her doll, was also spread on social media.
She was so little that she had to be lifted onto the courtroom chair. Obviously, she did not understand the judge's questions.
VG-INTERVIEW WITH RANGAPPA: Why lie if there is nothing to lie about?
PHOTO STORY: The escape towards the dream
Whilst in New York, Fernanda, who will be three in December, lived with a foster family arranged through a child protection agency.
Fernanda's maternal grandmother took her to the USA, where they became separated in Texas.
"I agreed that they could travel," admits her mother, Alison, to VG.
"But then people told me that they might be separated at the border and that Fernanda could potentially be put up for adoption in the USA. We managed to contact my mother in Mexico and asked her to come back with Fernanda, but she wouldn't listen to me," says Alison.
DID YOU READ? Single mother Marjory killed by gangsters
She shows us video calls she saved on her mobile phone from when Fernanda was in New York. A child psychologist told Alison that the little girl was traumatised by the experience and she needed help.
Despite this, the two-year-old was only allowed to talk to her mother twice a week on Wednesdays and Fridays.
The videos show that Fernanda couldn't stop crying.
"I only want to be with you, mummy. I only want to be with you, mummy," says the two-year-old.
"Don't cry, we'll get you back to Honduras," says her mother.
She was right. On 25 October, the two-year-old returned home on an American Airlines plane with seven other separated children.
It was a joyous reunion.
"Mi amor, my love," cried Alison when her child was handed over.
During VG's visit to the family, Fernanda sits on her mother's lap in a deep armchair fiddling with her freshly showered hair. They live better than many of their neighbours.
VG exposed the largest child sexual abuse forum. It was run by the police.
The house has two bedrooms, a separate kitchen and there is a large Christmas tree with glowing white lights in the corner of the spacious living room.
Beyond its walls, however, dangerous gangsters control the area.
The day before our visit to the family, two young women were shot and killed just a few streets away.
We ask Alison why she agreed to send her two-year-old daughter to a foreign country.
"It's almost impossible to get a job in Honduras even with an education. I thought she could have a better life in the USA. But not in an adoptive home," explains the 21-year-old mother, who had a second daughter, Mia Charlotte Martinez, with Julio Alberto Martinez, her new husband, five months ago.
LPGA STAR TO VG ON TRUMP: He cheats like hell - but I respect him
Fernanda's father died in a car accident four months after she was born, but Julio has taken on the role of father to Fernanda as well, which is clear from the way he carries her around when she gets tired.
He hopes to take the whole family to the USA in the future.
"It's safer there, with better financial opportunities. There are no opportunities in Honduras, but I will not try to cross the border illegally with a human trafficker. I tried four years ago, but was arrested in Texas," says Julio.
He now works as a hairdresser down the street. Alison also hopes that it will be possible for the family of four to travel to the USA in the future.
"It may be more difficult now that Trump is president, but it's my dream," she says.
Amada, Fernanda's paternal grandmother, continually smiles during VG's visit. To her and her husband, Hector Enrique Lazo, Fernanda is an irreplaceable memory of their now dead son.
She tells of the heated discussions they had with Fernanda's maternal grandmother.
"Don't take our little girl," we said. But she did anyway. We managed to contact her in Mexico and begged her to come back. But she wouldn't listen. Now, we're just immensely happy she's back. We're very grateful," says Amada Vallecillos.
President Donald Trump stopped his own policy on the separation of families after massive worldwide condemnation.
Some children have yet to be reunited with their families. In total, around 3,000 families were separated.
60 Minutes reported last weekend that the number could be as many as 5000.
Kommersielt samarbeid: Rabattkoder