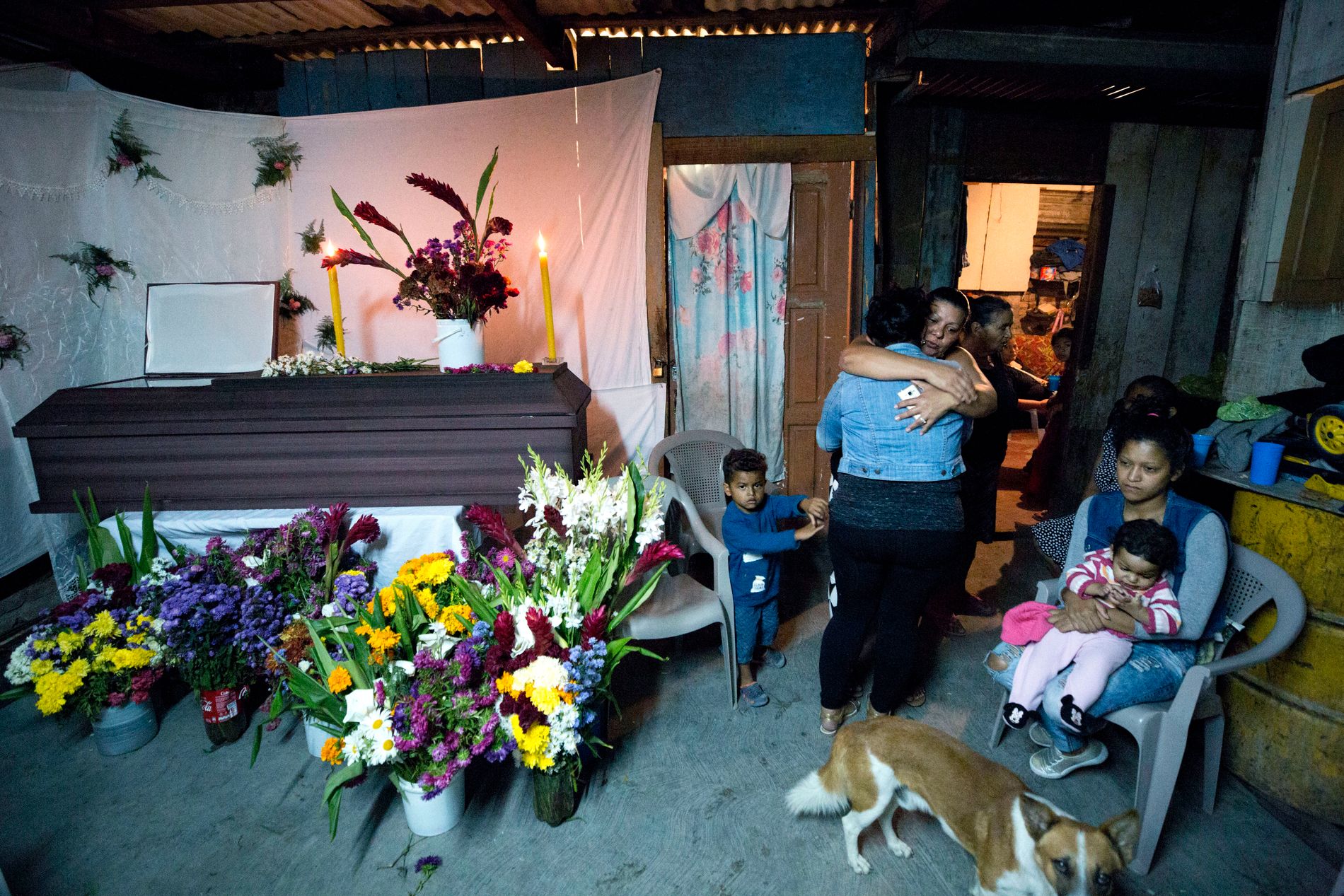 Marjory (19) killed by gangsters in violence-ridden Honduras
TEGUCIGALPA, HONDURAS (VG) A broken-hearted mother. A brave son. Leaning over the casket saying their last goodbyes to Marjory (19).
Artikkelen er over ett år gammel
VG travelled to this Central American country to further investigate why several thousands of people are fleeing the country in migrant caravans headed towards Donald Trump's USA.
After just a few hours, we were attending the funeral of the 19-year-old single mother, who was killed the day before.
In the gang-controlled suburb of Villa Los Laureles on the outskirts of the capital city, Tegucigalpa, around 40 people have gathered in a dark alley.
They are drinking, swapping stories and smiling. Occasionally, some quiet laughter is heard, exactly like any other November evening.
The day's laundry is hanging on clothes lines strung from the roof. A couple of stray dogs are scrounging around looking for food. But something is not quite the same this evening.
At the back of the lot stands a dark-brown wooden casket, along with two flickering white candles. On the concrete floor beside the casket, bouquets of flowers add a splash of colour.
les også
Former FBI agent about Trump: "Why lie if there is nothing to lie about?"
Inside the casket, lies the 19-year-old mother of a four-year-old boy.
The four-year-old sits in the back room in the safety of his grandmother's lap.
Cristopher understands that his mother, Marjory, will never come home to tell him how much she loves him.
He had gone shopping with his mother to buy a chicken, when she and a close friend were shot and killed in broad daylight a few streets from where they live.
The police report states that the killers turned up with no warning, shot the women without saying a word and then fled the scene.
Cristopher ran home to tell them about the horrific event.
Irma Patricia Gonzalez, the 19-year-old's mother, takes the boy out to his mother's open casket. She lifts him up so he can see her face for the last time.
She has been made up, and is wearing a white dress and a hairband for her final journey.
The brave little boy with dark curls holds back his tears. Irma breaks down.
NORWEGIAN VERSION: Marjory (19) drept i Honduras
VG has been invited to the funeral. At first, the family says we are welcome to take photographs, but they will not talk to us for fear of reprisals from unknown perpetrators.
Later, however, they do want to talk. They ask us to go into a small room where close relatives have gathered.
They explain that they want the world to know what is happening here. They want to tell us that people are fleeing Honduras because large areas are ridden with deadly violence, crime and extreme poverty.
Up until today, nine people had lived in this small room, where the kitchen consists of no more than a small worktop. In the evenings, they put mattresses on the floor where they sleep. They shower and go to the toilet behind a curtain in a rickety outhouse.
Now there are only eight people to share the space.
Marjory Stefany Gonzalez Carranza was a victim of violence in a country where 96 per cent of all murders are never solved.
Her friend, Angie Xiomara Arevalo Rodriguez (18) was killed in the same incident on Sunday, 18 November.
The feared MS-13 gang controls large parts of the area we are in.
"My daughter only went out to buy a chicken and this is what happened. Now, I'm very scared about her son and what could happen to him, because he witnessed the murder. That's why I want to take the whole family to the USA," says Irma Patricia Gonzalez, who now has three remaining children: Edgardo (13), Katy Michelle (11) and Sherly (9).
Fear of revenge is one of many reasons why murders are rarely solved in Honduras.
The gangs killed Irma's husband two years ago. Now they have robbed her of her eldest daughter, the only family member with an income.
Marjory sold peanuts on the streets and on public transport. Her daily pay amounted to around 10 dollars.
Asked how she wants her daughter to be remembered, Irma breaks down again.
"She was a wonderful daughter, who worked to help her siblings, her son and me. Now, I will have to get money for rent and food myself. It's impossible. Someone has to look after the children," she says.
Then we talk about how many people are sitting outside to pay their respects.
"Marjory was a very happy and popular girl in the neighbourhood. Everyone loved her. It makes me very proud to see so many people at the funeral."
Nevertheless, Irma is now ready to leave her friends and neighbours.
"I want to apply for legal asylum in the USA. Because of all the violence, I can't live here anymore. You can see what has happened to us. But I won't go to the USA and try to enter the country illegally. It would be too hard for my children," says Irma.
Irma's mother, Petronila Carranza, is sitting on a small stool consoling those around her.
"This is a daily event for us. Today, you are here, but tomorrow another family will be going through the same thing," says Marjory's grandmother.
She says she understands everyone who is fleeing to the USA. But she is also concerned about the Honduran government.
The original migrant caravan, which became Trump's most important issue in the midterm elections, started as a protest against President Juan Orlando Hernandez, and a government that many believe is corrupt.
"The government only gives money to those who voted for it," claims Carranza.
With the aid of an interpreter, VG has spoken to a police source in Tegucigalpa. One of the main police theories is that the two girls were attacked because they refused to enter into relationships with gang members.
"The gangs seek out beautiful young women and punish them if they refuse to become the girlfriends of gang members," says Paulo Cerrato, who has seen most things during his eleven years as a crime reporter in Honduras.
At the most, he has covered 23 murder cases in one day. There are currently around ten murders a day in Honduras.
But Cerrato just gives a thin smile when we point out that official figures show a 25 per cent drop in the number of murders committed in Honduras in 2017 compared to the previous year.
"The authorities created a new category called 'undetermined killings'. This means that we have seen cases where bodies with bullet wounds or bodies that have been tied up and found in the river are categorised as 'undetermined'. As such, they are not included in the official statistics," says the crime journalist.
Despite this, he is aware that the murder rate in Honduras has fallen, especially compared to the gruesome years of 2012 and 2013.
The authorities' own figures show that 7,172 people were killed in 2012.
Two-thirds of a population of just over nine million live in poverty, but according to think tank, FOSDEH, this figure increased by six per cent in 2017.
Eighty per cent of all workers earn less than the average monthly minimum wage of 400 dollars.
Kommersielt samarbeid: Rabattkoder