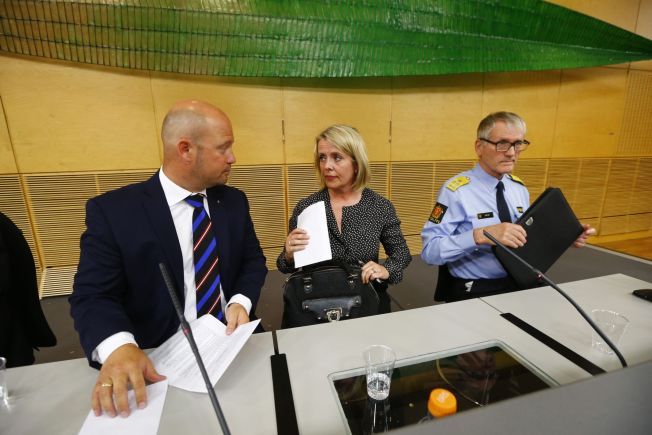 Authorities warned of terror attack against Norway «within few days»
Norway's intelligence agency says it has credible information of an immediate threat from persons linked to extreme Islamist groups in Syria.
Publisert:
Oppdatert: 24.07.14 15:20
– We recently received information that persons related to an extremists group in Syria may be planning a terror attack against Norway. The threat we are facing is serious, but expected, said Benedicte Bjornland, head of the Police Security Service, PST, during a press conference held Thursday morning.
She underscored that the information was «credible» and that the attack is planned to take place within the «next few days». She added, however, that the threat is not specific regarding place, target and weapons involved.
PST is the intelligence agency within the Norwegian police force, responsible for monitoring national security and countering terrorism.
The agency's annual threat assessment has over the last years identified extreme Islamism as the most serious terror threat against Norway. Recently PST stated that around 50 persons have left Norway to fight in Syria. In late May three persons were arrested in Norway, charged with participating in or supporting terrorism by planning to join The Islamic State of Iraq and the Levant (ISIL) in Syria.
Today, Bjornland did not want to disclose where the information about a possible terror attack came from, nor did she want to comment on specific radical Islamist groups.
– Our information tells us that we are dealing with people who have participated in fighting on the ground in Syria. Whether they have arrived in Norway or are on their way is not yet clear, she said.
PRESS STATEMENT: Read the entire press statement from PST in English here.
Every police district across the country have been alerted and will follow necessary procedures. Increased border protection will be in effect from today. Armed police will be patrolling international airports as well as large train stations and other key public areas.
Train schedules are currently not affected by the terror threat, according to NSB, the national railway operator.
Anders Anundsen, minister of Justice and Public Security, said during today's press conference:
– We, as citizens, must not judge or react against certain minorities because of this threat.
He added that citizens should be aware of their surroundings these days and keep an eye out.
Prime Minister Erna Solberg has decided to delay her vacation due to the current terror threat.