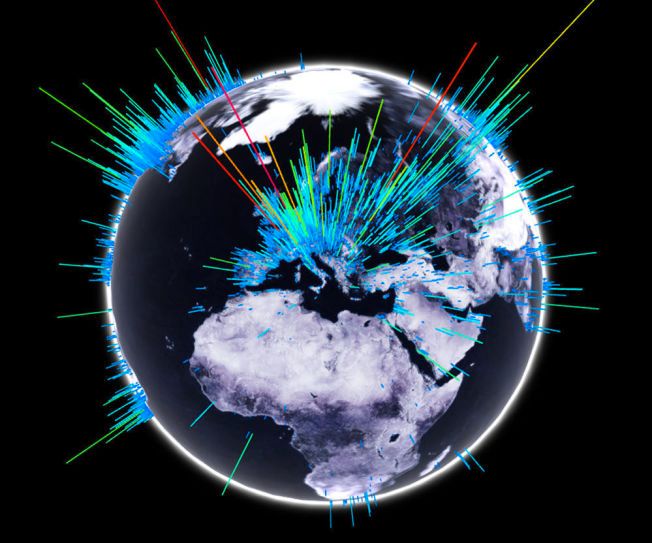 This map shows 95,000 downloaders of child abuse pictures worldwide
Over the last ten months, VG has mapped downloaders of abuse material. This world map shows where 95,000 downloaders of abuse images are located. List below.
ARTIKKELEN ER OVER FIRE ÅR GAMMEL
Thanks to an extensive data material VG knows of nearly 95,000 people worldwide who download photos and films showing child abuse. Most of them have probably paid to gain access to the material.
Click here to see the interactive world map.
Today VG presents the first part in a series of articles on people who download child abuse images. The Norwegian newspaper possesses information about 36 million downloads from all over the world. For ten months VG has mapped and identified Norwegians who have downloaded abuse material.
Read the entire story here: The Downloaders
95,000 child abuse downloaders worldwide
VG has detailed information on a large number of Norwegians who, according to our data, have spent time, money and resources on increasing the demand for child abuse images.
We have, however, information on far, far more downloaders from all over the world.
In total 430,177 files showing sexual abuse of children have been downloaded to 94,989 IP addresses the world over.
For every download, we have indications of the user name and email address of the downloader, in addition to information on the file and the IP address it was downloaded to.
Even if an IP address is not the same as a person, there is reason to assume that VG has information on close to 95,000 people from all over the world, who spend time, money and resources on downloading child abuse images.
The information is gathered from activities logged from a small number of file-sharing services which are preferred by people who share this kind of material.
Child abuse networks
Einar Otto Stangvik, computer analyst in VG, believes that the map may indicate the location of several paedophile networks.
– The reason why one specific file-sharing service is used in one specific country may be that paedophiles and downloaders in this country discuss and recommend this service when they want to share abuse material. We have seen in several hidden forums that they recommend certain file-sharing services, and this discussion may happen not just on the Internet. One can therefore look at this world map as a representation of several geographic networks of downloaders and paedophiles, says Stangvik.
– Another, more practical explanation may be that these countries simply have the best Internet connections, Stangvik continues.
Stangvik is the one who has uncovered the material. His analyses of the logs have revealed information on where abuse material is downloaded.
He says that there may well be more people than those VG now know of, who have downloaded abuse material.
– These 95,000 IP addresses have downloaded the same files as the Norwegian downloaders seem to have done. It is not impossible that there is more abuse material in the data logs than what we have found so far, Stangvik says.
Majority of industrialized countries
The majority of the downloaders are in the large industrialized countries: Germany has the most downloaders in VG's data material with 18,107 downloading IP addresses.
Then follow the USA and Russia with 13,630 and 11,118 IP addresses respectively. The next countries on the list are Great Britain (3743 IP addresses), France (3393) and Japan (3336).
VG has identified 78 Norwegians who seem to have downloaded abuse material.
They are of all ages. The youngest downloader VG has identified is still in highschool. The oldest is well over sixty.
They have all kinds of jobs. Some have top positions in the health services, others are unemployed and disabled. Some have done Christian work, others have held central positions in the armed forces. Some are manual workers; others are artists, musicians or photographers. Some work in IT.
All the downloaders are men. That is one of the few common denominators.
– Thought it would be attractive
The only ones who have been able to validate VG's material, are the downloaders themselves. We have therefore contacted and confronted ten of the men. Seven of them admit that our information corresponds to what they have actually done.
– How on earth have you found out all this about me, is the reaction of the first person to be confronted by VG. He runs his own company.
– I don't think I am doing something wrong. We all have different preferences. But if the police get hold of this, I go to jail, lose my house and my job. That would be the end of it.
Several of the men VG confronts react by deleting all they have on their computer. One of the downloaders smashed his computer before he threw it in the ocean.
– I didn't know whether to puke or shit myself. I was completely beside myself. But if you are looking for that kind of person, you have come to the wrong place. Sometimes, of course, you start to download something, and you don't always realize what is being downloaded, is his explanation to VG why we have found information about him in the data material.
Another insists that he has only downloaded out of curiosity.
– I thought it would be attractive. But every time I opened one of the films I had downloaded I only saw brutal abuse.
All kinds of people
Most of the men have been downloading for a long time, unbothered by the police. That corresponds to the image the National Criminal Investigation Service (Kripos) have of the downloaders.
– Many of the people we catch in these cases are people who are completely unknown to the police. They are ordinary people from all professions, all social classes, all income groups, all ethnicities, all religions, says police Superintendent Bjørn-Erik Ludvigsen at Kripos to VG.
He has worked as investigator at the Section for Sexual Crime and is among those with the most knowledge of who the downloaders are.
– There is no offender profile that fits those who have a sexual preference for children and crimes against children. They are all kinds of people. They are policemen, journalists, unemployed and everything else, he says.
The investigator thinks that people who download child abuse material are also responsible for the crime against the children.
– Every instance of sharing or downloading abuse material contributes to maintaining the market for new instances of abuse against children. Without the downloaders there had not been as much child abuse. Furthermore, the images constitute a continuous violation of the children as long as the material stays on the Internet and is spread across the globe. They have to live with it for the rest of their lives, he says.
The list
Number of IP adressesfor each country that has downloaded child abuse images, according to the material VG have analyzed:
18107 Germany
13630 United States
11118 Russia
3743 United Kingdom
3393 France
3336 Japan
2969 Brazil
2364 Italy
2073 Ukraine
1899 Spain
1837 Australia
1777 Netherlands
1723 Canada
1672 Poland
1589 Mexico
1256 Sweden
1178 Turkey
1071 Argentina
981 Belarus
973 Austria
885 Czech Republic
851 Hungary
750 Switzerland
723 Peru
649 Indonesia
612 Saudi Arabia
540 Finland
502 Belgium
446 Chile
430 Norway
422 Denmark
410 Slovak Republic
387 Uzbekistan
361 Romania
359 Iran
350 Serbia
333 Greece
296 Israel
294 India
287 Kazakhstan
286 Thailand
283 South Africa
280 Malaysia
279 Colombia
253 Portugal
253 Algeria
250 Taiwan
250 New Zealand
221 Ireland
212 Bulgaria
207 Philippines
205 Egypt
196 Republic of Korea
180 Croatia
153 Venezuela
149 Isle of Man
142 Republic of Lithuania
134 Tunisia
132 Hong Kong
131 China
125 Yemen
123 Singapore
117 Luxembourg
113 Costa Rica
111 Uruguay
106 Latvia
99 Estonia
99 Sri Lanka
98 Mauritius
95 Bolivia
93 Ecuador
92 Pakistan
83 Republic of Moldova
81 Hashemite Kingdom of Jordan
80 Paraguay
71 Slovenia
69 Guatemala
67 Iraq
63 Réunion
63 Puerto Rico
62 Azerbaijan
56 Bosnia and Herzegovina
55 United Arab Emirates
53 Nicaragua
52 Afghanistan
50 Iceland
49 Morocco
47 Kuwait
44 Oman
40 El Salvador
39 Kyrgyzstan
39 Trinidad and Tobago
35 Syria
33 Panama
32 Palestine
31 Lebanon
31 Georgia
20 Bahrain
20 Dominican Republic
18 Tajikistan
18 Bangladesh
16 Macedonia
16 Honduras
16 Cambodia
16 Albania
14 Senegal
14 Armenia
12 Nigeria
12 Guadeloupe
12 Cyprus
11 Brunei
10 Malta
10 Guam
10 Greenland
10 Bahamas
Kommersielt samarbeid: Rabattkoder