The king of foster homes
This unknown German runs a foundation that has
received nearly half a billion kroner to care for Norwegian foster children. The foundation has churned out huge profits,  paid millions to the managers and transfered additional millions out of the country.
Maria Mikkelsen

Shazia Majid

Tom Byermoen

Tore Kristiansen
Artikkelen er over tre år gammel
Peer Salström-Leyh (63), a Norwegian-German businessman based in Cologne, has built up an empire of foster homes in seven European countries.
By defining themselves as non-profit organisations, Salström-Leyh's foundations have accessed a several billion-kroner reserve of Norwegian public funds, and have avoided paying taxes on their profits.
Furthmore, the state Child Welfare Service approved a pricing that has enabled the private foundation to churn out a 52 million kroner profit over four years.
VG can now disclose the story of how Norwegian taxpayers money have been spent on generous salaries, bonus payments and financing of the 63-year-old's businesses in other countries.
Despite repeated concerns on the matter, the Norwegian authorities have continued their flow of money to the foster home foundation.
The Year of the Foster Home
Peer Salström-Leyh set up his Norwegian branch on the 4th of May in 2011, merely two days before the purchase and sale of foster homes became serious business in Norway.
There was a desperate need for families.
For several years, the aim had been to move as many children as possible out of institutions and into normal homes. At the same time, the Child Welfare Service had gradually taken on the care of increasingly younger children, who needed help for a longer period of time.
2011 was declared the "great year of foster home", by the Norwegian Directorate for Children, Youth and Family Affairs (Bufdir).
On May 6th Bufdir announced it's very first competitive tender for six-year contracts with a total worth of up to 1.5 billion kroner. In accordance with the the wishes of politicians only non-profit organisations could apply. The ministry of Children, then led by SV (Norway's Socialist Left party), prioritised these bodies because profit is not supposed to be their primary purpose.
The contracts under the tender enabled non-profits to offer foster homes to the most demanding children. Individual placements could also be purchased from commercial suppliers.
The price charged by the private companies and foundations was far higher than for the comparable state foster homes. But in the years that followed, the Child Welfare Service would become dependent on the private sector.
In 2012 Bufdir bought 371 million kroners' worth of foster services.
By 2016 the sum had doubled to 753 million kroner.
More than a sixth of this amount went to Peer Salström-Leyh and Stiftelsen Fyrlykta (The Fyrlykta foundation).
The Lighthouses
The story of Peer Salström-Leyh's European foster home network began in Portugal in the 1990s.
Being a German sailor with a Norwegian mother, he had worked for over ten years in various shipping companies when he became involved in social work.
In 1993 he launched a project that offered foster homes to German youths in the southern region of Algarve. At the turn of the millennium, the concept was transferred to Estonia, under the name of Tuletorn, translating to Lighthouse.
Over the next fifteen years, Salström-Leyh set up foundations in six other European countries. Much of the activity is managed from what is now referred to as the parent foundation: Stiftung Leuchtfeuer in Cologne.
In addition to being the founder, the 63-year-old holds key positions in at least four of the foundations. The same is true of his wife, who is both an employee and undertakes other paid positions.
Over the past few months, VG has mapped Salström-Leyh's extensive European network.
VG has been in touch with Salström-Leyh's wife Meeli Salström. She says the salary she receives from the Estonian foundation is in line with Estonian salaries and that she receives no payment for other businesses in Estonia.
The annual reports of the German foundation are not publicly available. However, VG can document that it had 59 million kroner in revenues in 2009 and 65 million kroner in 2011.
Read more about the German foundation's finances in its applications to the Norwegian authorities here: 2011 and 2013 (pdf)
The agreements with the Norwegian
Child Welfare Service have however proved to be much more lucrative.
A financial fairytale
Salström-Leyh's foundations have over the course of five years earned a total of 437 million tax-free kroner in Norway, according to the foundation's public annual reports and disbursements from Bufdir last year.
The Norwegian venture has been profitable from the very outset.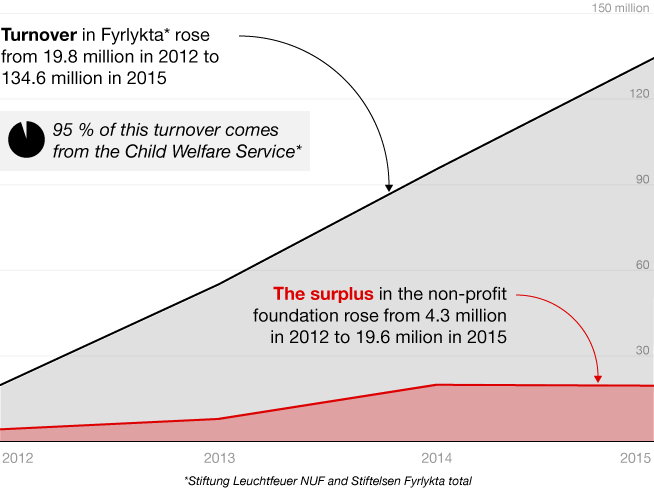 In 2012, the same year as the agreement with Bufdir came into force, the foundation made a profit of 22 kroner for every 100 kroner it received from the public sector. This was twice as much as the commercial child welfare giant, Aleris Ungplan.
The following year, the foundation's activities were switched from a Norwegian affiliate of the German foundation, Stiftung Leuchtfeuer NUF, to the Norwegian registered foundation Fyrlykta.
Recruited from the unemployed
In spring 2016 Stiftelsen Fyrlykta recruited foster families at Mulighetsterminalen in Stavanger – a meeting place for people who had lost their jobs as a result of the oil crisis.
A few months earlier, the foundation had opened its first offices in Rogaland, Western Norway. Families could earn up to half a million kroner a year, according to NRK.
"People need money to survive, and for a lot of people this becomes a life project. So they should be allowed to get paid," said an Fyrlykta employee.
In addition to the regular payment, foster families also get monthly payments to cover their expenses. That means that a foster family can get around 600,000 kroner a year for one child.
But figures from Bufdir show that it pays the private sector double the amount:
1,3 million per year for one child, given the daily price of 3530 kroner as per official figures.
The directorate did not wish to specify how much it pays Fyrlykta for each child in a foster home. But the foundation's annual reports confirm the numbers.
On average the revenues of the foster home businesses show that around half of the money has gone directly to operating the foster homes, including salaries to the foster parents, expenses, contingencies, monitoring and guidance.
At the same time, a significant proportion goes to other business operations. On average, close to a third of the public transfers are used on administration and salaries of the foundation's own employees.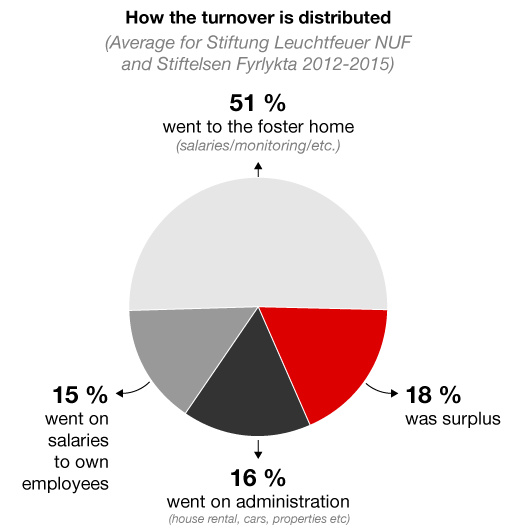 In addition, Fyrlykta has obtained substantial profits every single year since its operations began.
How is the money being used?
Free loans
When Bufdir announced the competitive tender for non-profit agencies in 2011, it stipulated that the applicants must have a non-commercial purpose, must be independent and must not distribute any profits to anything other then their main purpose.
In addition, it indicated a guideline which stated that non-profit organisations are distinguished from others by the fact that profit is not their goal or that «profits should be used exclusively to operate and offer humanitarian and social services to the general public or special groups without the recipient having to contribute profitable remuneration».
Fyrlykta's statutes do not stipulate how any potential profits will be distributed.
The foundation's aim is to "develop and market innovative new concepts in social work, especially within child welfare, schools, education and rehabilitation. To achieve these aims, the foundation will work with different partners in the society".
Due to the foundation defining itself non-profit, it has avoided paying approximatly a quarter of it's profits in taxes to the Norwegian government.
VG's investigation discloses that Norwegian Child Welfare System funds have since 2012 financed:
1. Millions in expenses to Estonia
Fyrlykta pays an annual membership fee to an umbrella organisation in Tallinn of which Salström-Leyh is the director and sole board member.
For present year, the foundation stated that the expense was 4.6 million kroner. Which means the total membership fee for four years amounts to 15.5 million kroner.
The 63-year-old is involved in a number of businesses in Estonia, and owns several properties in the country.
2. Purchase of private limited company
The foundation bought Toldbodbrygga 1 in Fredrikstad for 2.9 million kroner in 2015. Fyrlykta rents the office premises from the company, to which it has also extended a loan of 4.2 million kroner.
The company has the same board members as the Fyrlykta foundation. The director is also part of the foundation's management.
3. Financial assistance for foundations in Europe
The European foundations' internal guidelines state that they are supposed to finance the establishment of new foundations.
Over the past two years, Stiftelsen Fyrlykta has loaned several million kroner to the foundations the 63-year-old has set up in other countries. The largest loans were extended to Sweden and Finland. The Finnish foundation pays no interest on a loan that stood at 1.6 million kroner last year.
The Swedish foundation paid interest of merely 49,000 kroner on a loan of 3.7 million kroner in 2015. The same year, a 230,000 kroner loan to the lighthouse in Lithuania was written off.
4. Million-kroner salaries
Since its launch, management has received a total of 13.8 million in salaries and remuneration. According to the official registry for businesses in Norway, the foundation had three directors as at September last year.
Salström-Leyh is part of management but says he hasn't received a salary. This means that last year's salary payments of 4.1 million kroner were shared between two people.
5. Purchases from Salström-Leyh's company in Estonia
The foundation says it buys services such as logo materials, IT services and travel agency services from a private limited company in Tallinn called Elukaar. The foundation has not said how much it has paid for this.
6. Properties worth 21 million kroner
The foster homes millions have also been used to purchase six properties through both the foundation and its daughter company. These are used as child welfare institutions. During talks in 2015, Bufdir noted that the rent the foundation paid itself was "particularly high".
7. A donation of half a million to the foundation in Lithuania
Market prices
According to Salström-Leyh, the foundation bought the public limited company because it needed a central office. In order to be able to buy the building, the foundation had to buy the company that owned it. Fyrlykta has previously told Bufdir that the property investments secure and protect its work as a foundation.
Salström-Leyh also says that the rent it charges is based on market prices and the donations are made in line with Norwegian law. Management salaries are, in his view, on a level with salaries in non-profit organisations.
Examples of non-profits that deliver foster home services indicate that salaries and remuneration for management range from 630,000 kroner to over a million.
Tuletorn
On the outskirts of Tallinn stands a beige brick building with big windows, a balcony and a sea view.
The EU flag flutters outside, alongside those of Germany and Estonia. On the other side of the motorway, tourists stroll along the promenade.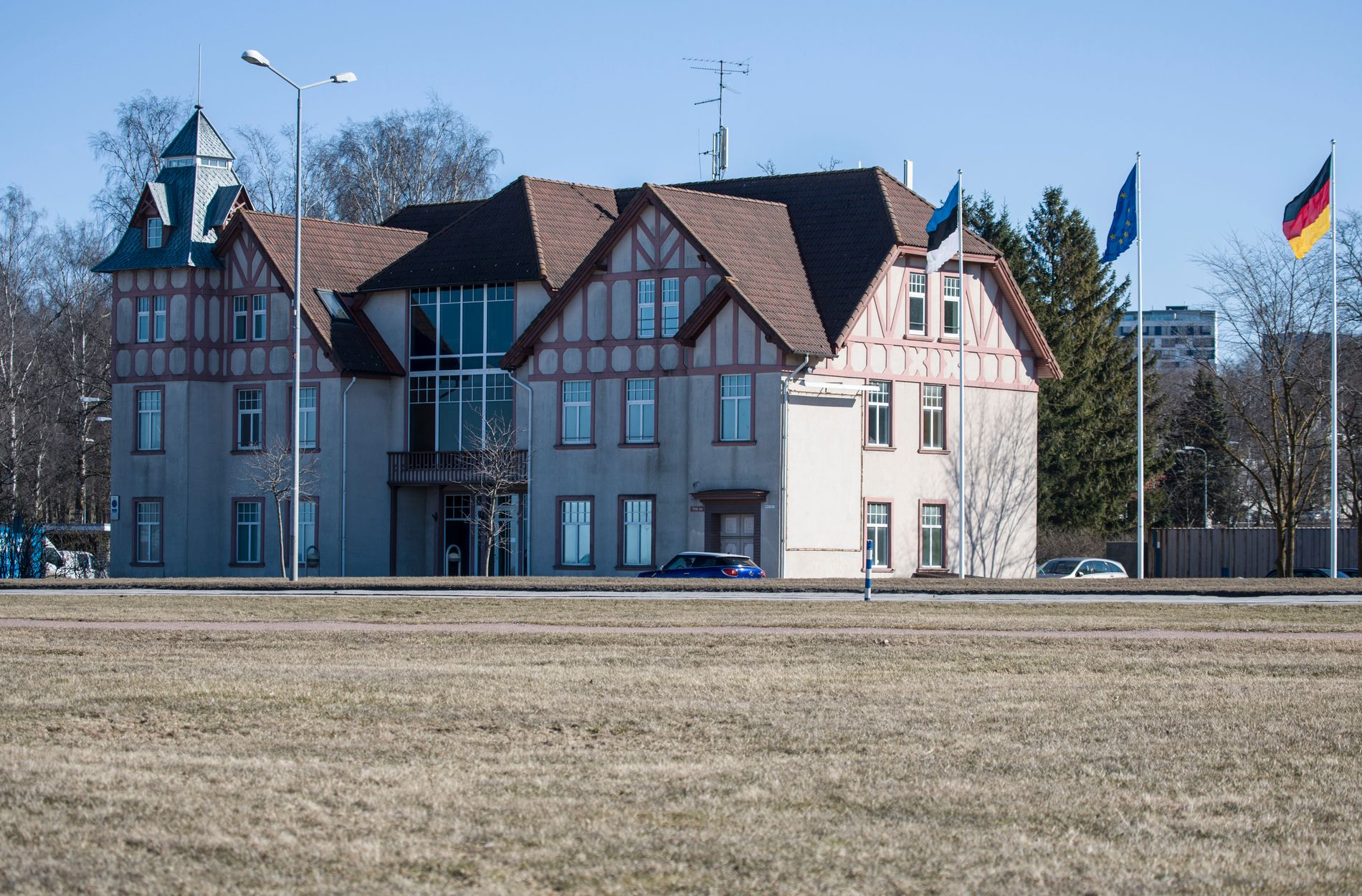 No activity is visible from outside. The curtains on almost all the ground floor windows are closed. All that is visible from the street is an empty, white painted hallway with several doors.
This house is the core of the European foster home business, and is the centre of Salström-Leyh's extensive business in Estonia. Three out of the four tenants are connected to the owner.
The house was sold by the Estonian Olympic Committee to the German's private limited company, Tuletorn Projekt – meaning Lighthouse Project in English – for around 11 million kroner in 2013.
It was through this company that the 63-year-old started up his Estonian foster home service. Now, this business has been switched to a foundation with the same name, while the company's main activity is property rental.
This is where the umbrella organisation Interpharus is registered.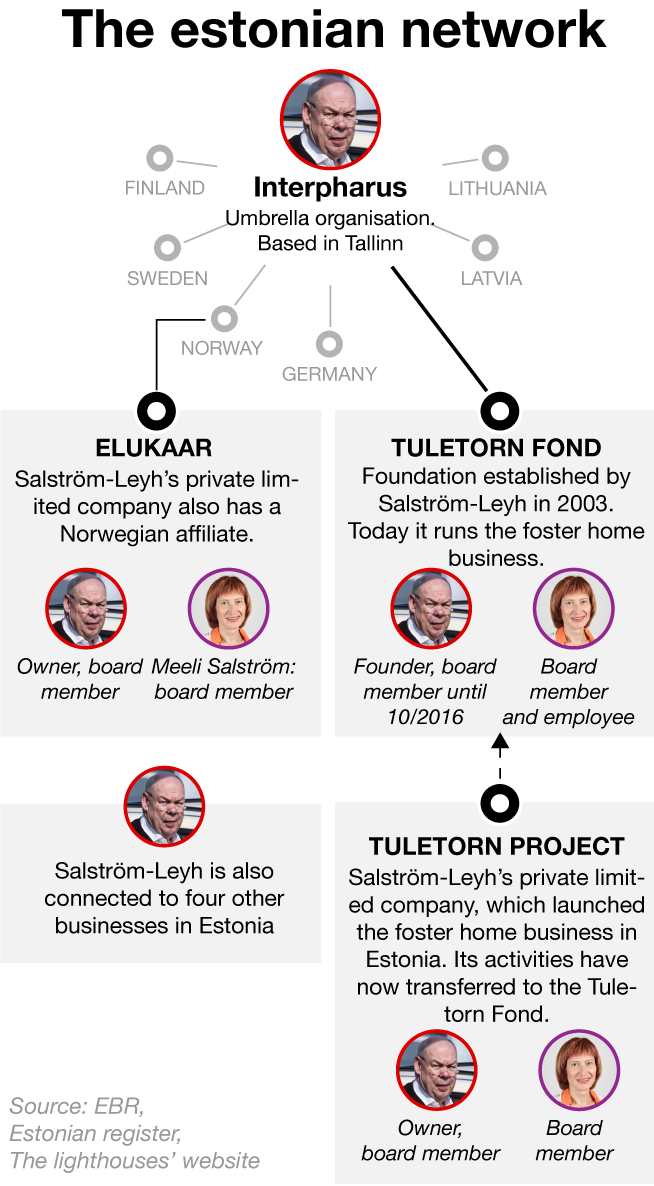 Stiftelsen Fyrlykta pays up to 4.6 million kroner in membership fees to the organisation, which is not a non-profit. Salström-Leyh is the sole board member and receives a director's salary.
The Norwegian foundation also owns shares in the company, which was set up in 2013 to deal with so-called "non-pedagogical" tasks, such as IT services, legal advice and travel arrangements.
The other European foundations also pay fees. But last year, 65 per cent of the 7.4 million kroner in payments came from Norway.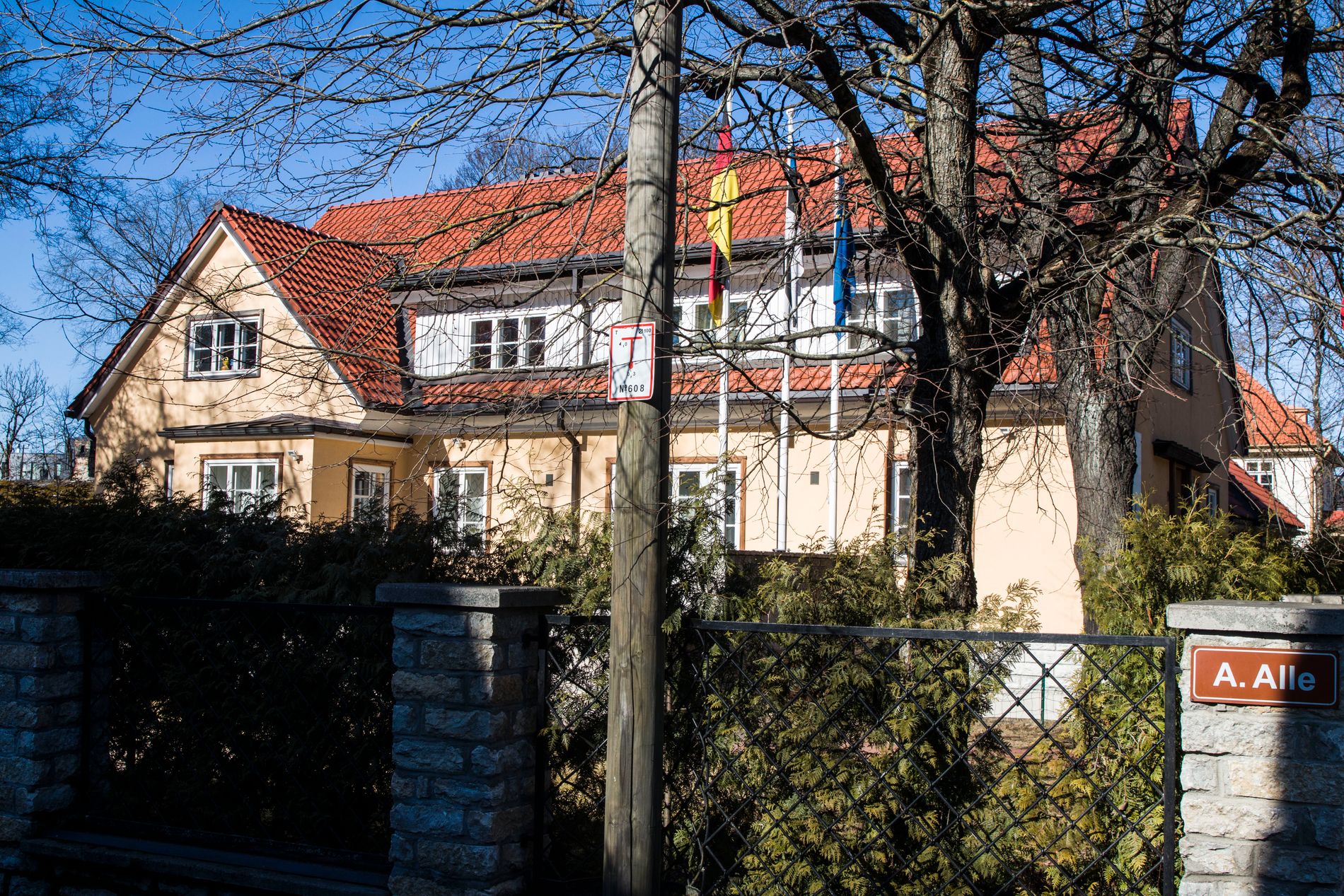 The Estonian accounts provide little detail about how the money is used. But the company told VG that a third of its costs were salary payments to a total of nine employees.
15 per cent of the costs went on rent and transport, while 23 per cent were said to be costs related to activities such as research, accounting, legal assistance and IT services.
Rejected
In Norway, Fyrlykta had been delivering services to the public sector for over two years when alarm bells went off.
When the municipality of Oslo was about to enter into foster home agreements with non-profits in spring 2014, it discovered that the foundation had a bonus system. Up to 30,000 kroner was being handed out to employees and foster families.
Nonetheless, the foundation was given a framework agreement when, under pressure from the municipality, it wound up the bonus arrangement.
Two years later, however, the municipality took action again. In connection with a new competitive tender, it saw that the bonus arrangement had been replaced with what the municipality considered to be high management salaries.
The board, consisting of Kjell Hauge, Morten Hauge and Peer Salström-Leyh, had handed themselves, the directors, a total of 2.2 million kroner in salaries in 2014. The following year, the salaries had risen to around 4 million kroner.
Salström-Leyh gave evidence in court. He said that he did not receive a salary, and that the sum was therefore divided between two people.
At the same time, board remuneration was 280,000 kroner, but Fyrlykta later told Bufdir that this remuneration was paid to the foundation's council.

The municipality's requirement for non-profits was that any surplus should be written back into the business. According to the Child and Family Unit (BFE), Fyrlykta had not respected this.
"A salary increase of close to 80% – from a starting point that could certainly not be described as low – seems quite extraordinary. In BFE's opinion, the scale of the increase, both relatively and nominally, is sufficient in itself to indicate that this is actually a kind of bonus or exchange," reads their rejection letter dated 14 September 2016.
Fyrlykta refused to accept the decision and asked Oslo County Court to intervene with a temporary injunction.
The foundation argued that the salary was competitive and underlined that the business was absolutely not being drained of resources.
However, the municipality gained support for its view that the foundation had "a commercial character that is not consistent with being a 'non-profit' organisation, as per the basis for competition".
Immediately after the decision, Oslo municipality also decided to cancel its existing agreement with Fyrlykta.
"The correspondence with the foundation substantiated the idea that the salary increase was linked to the fact that the foundation had increased its turnover and had achieved good financial results. It became clear to the municipality that the foundation was failing to respect one of the fundamental aspects of a non-profit organisation: that payments from the public sector must be used to fulfil goals of public utility, and are not supposed to end up in the pockets of owners or managers," says Tomasz Edsberg, of the municipality's legal department.
But at Bufdir, the foundation's largest client by a long way, the million-kroner payments continued.
Concerns raised
Several reports warned about the weaknesses in the authorities' work with foster homes.
A report commissioned by the government last year indicated that high demand has given the private sector "considerable negotiating power".
The suppliers have been paid for a comprehensive offer, regardless of who the child is. A number of cases have come to light of private stakeholders receiving payments for more services than were called for based on the child's needs, wrote Vista Analyse, adding a quote from a letter Bufetat sent to NHO (the Norwegian employers' association):
"Bufetat does not know what kind of reinforcement is actually being put in place."
The directorate is supposed to monitor its contracts with private sector bodies on an annual basis.
But it wasn't until Fyrlykta applied for a new framework agreement in 2015 that Bufdir took action over the way it was run.
This time, too, the competition was restricted to non-profit stakeholders. When the directorate went through the accounts, several things caused concern:
• Earnings had jumped 573 per cent in 2014.
• The foundation had a large number of company cars, both owned and leased.
• The foundation had set aside five million kroner for an unknown purpose.
• The foundation's board members were also its directors; moreover, they appeared to be receiving both salaries and board remuneration.
Fyrlykta replied that it needed the cars to visit foster homes, that its prices were at the same level as those of other market players, and that the five million kroner had been placed in a reserve account as a contingency measure against any sudden drop in the market.
But the directorate was still so worried that it sent a message of concern to the Norwegian Foundation Authority in December, requesting "feedback on what further steps you take with this information (…)".
According to the directorate, however, it was told the case would not be prioritised.
Despite its concerns, it gave Fyrlykta a contract to run institutions in spring 2016. The agreement obliged it to pay for a certain number of places – irrespective of whether they were actually used.
Major political focus
But when the County Court decision came several months later, the directorate became concerned again. On two further occasions, it sought an assessment from the Foundation Authority.
"Stiftelsen Fyrlykta is a major provider of services to Bufetat and has been given priority in competitive tenders owing to its status as a non-profit foundation. Prioritisation of non-profits in our field has been a major political focus in recent years, and it is essential that prioritised organisations are genuine non-profits. We are therefore astonished by the feedback from the Gaming and Foundation Authority regarding the lack of priority in this case," reads a letter from the directorate on 19 December last year.
In February – more than a year after the original message of concern was sent – the Foundation Authority's assessment finally arrived.
It indicated that it was not the appropriate body to assess the extent to which Fyrlykta was a non-profit organisation.
"The conflict seemed to revolve around the extent to which the foundation was or was not a non-profit. But a foundation does not have to be non-profit. What the Foundation Act stipulates is that the funds should be used for the stated aim," senior consultant Karsten Karlsen Sunde tells VG.
He says that after Bufetat's first approach, the Foundation Authority informed the directorate that it would not conduct an inspection, but after the third request it sent a statement as "guidance for Bufetat".
"Our assessment was that these problems should be dealt with by those who were financing the services."
Surprised
VG has asked Salström-Leyh for an interview on several occasions, but he has only responded to questions by e-mail. The 63-year-old stresses that Stiftelsen Fyrlykta complies with the requirements for non-profit organisations.
"According to the Skatt Øst tax authority and the Lottery and Foundation Authority, Fyrlykta is a non-profit," he writes, referring to the letter in which the Foundation Authority points out that it lacks the competence to assess whether the foundation is a non-profit.
He continues: "We are surprised that Oslo's opinion differs from that of other public authorities."
The foundation has commissioned an audit from KPMG, which Salström-Leyh claims will confirm that Fyrlykta has done nothing wrong. When asked how the foundation has achieved such large surpluses, he replies:
"Stiftelsen Fyrlykta has an efficient structure and management. Bufetat's price policies changed in 2015-2016 and the prices are now lower. This has also affected Fyrlykta's earnings, which fell to 6 per cent in 2016," he writes in an e-mail.
"Are Stiftelsen Fyrlykta's prices too high in relation to the actual costs?"
"No. Fyrlykta needs positive and healthy earnings, just like other non-profit foundations."
He writes that the administrative costs are consistent with Bufdir's guidelines, and that the foster homes' remuneration is the responsibility of the state and municipal Child Welfare Services.
"Stiftelsen Fyrlykta will determine the use of its equity based on the foundation's statutes, Norwegian law and approval from the Norwegian authorities. We wish to build a healthy foundation for the future."
Later, he writes that he is taking active steps to prevent any conflicts of interest that might arise as a result of his many roles in the European Fyrlykta network.
Morten Hauge, who has been the foundation's director since its launch, informed us that he has been suspended from his post, and referred us to the foundation's administration for comments. VG has been unable to obtain any comment from Kjell Hauge, who was the director of Stiftelsen Fyrlykta up until last autumn.
Complicated
At the end of February, Bufdir ceased all new purchases from Fyrlykta in anticipation of an external review by Deloitte, which was commissioned several months after VG first made contact about the case. The report is costing half a million kroner including VAT and should be ready in mid-May.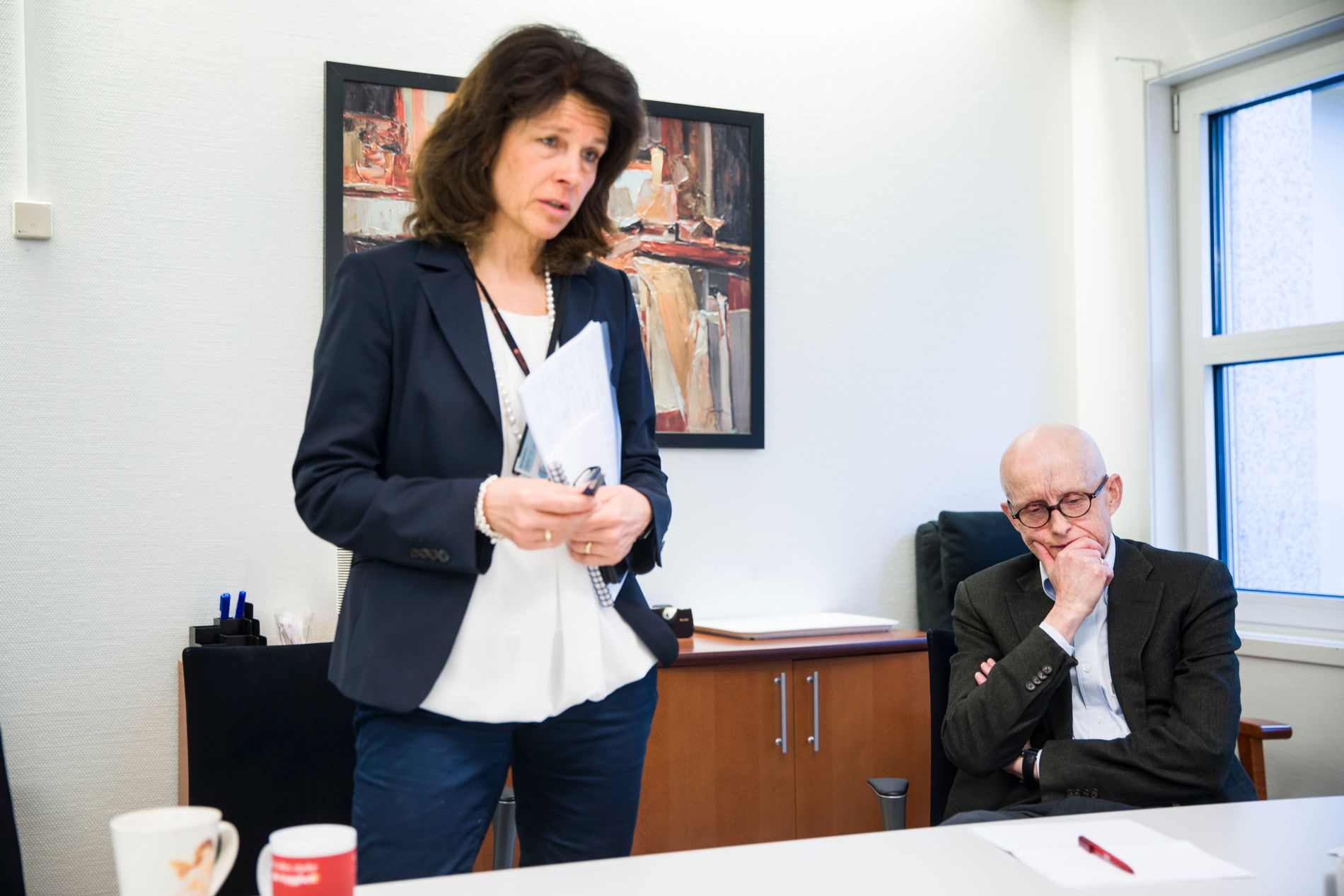 Assistant Director Aud Lysenstøen says the directorate has had no basis to dispute that Fyrlykta is a non-profit.
"We have to be aware of the fact that the market for non-profit stakeholders has developed in recent years. It is difficult to be absolutely clear whether you fall in or outside this category. We have not obtained enough information or enough of a basis to say that Fyrlykta falls outside. We are very pleased that Oslo municipality has taken that step and obtained a judgement. This, together with the audit review, will provide a basis for our future action. But the judgement was not so clear in isolation that we could use it to cancel the contract with Fyrlykta. This demonstrates the complexity in this market.
"Why are you dependent on external assessments?"
"These are pretty complicated issues. You need to know an awful lot about accounting techniques to go through the supplier's accounts and business operations. In order to do this in the best possible way, with the best possible quality and in order for it to be verifiable, we think it is wisest to outsource it to professionals in the field, for example Deloitte. They have their own auditing units who can work on it."
In mid-March, there were 95 children living in Fyrlykta's foster homes and 11 in its institutions. The directorate emphasises that it has no grounds to doubt that the children are doing well.
"95 per cent of Fyrlykta's turnover comes from Bufdir. What does it say about Bufdir's use of funds that it's possible to achieve such high profitability and such a large surplus?"
"No comment."
"Why not?"
"No comment."
"Do you think Bufdir's use of funds on private stakeholders is reasonable when it comes to delivery of foster home services?"
"No comment."
"Why don't you want to answer that?"
"No comment."
"What costs do you think it is reasonable to cover? For example, is Bufdir happy with the fact that four to five million was paid out to an umbrella organisation in Estonia?"
"In the case of Fyrlykta, the use of funds will be part of the assessment being carried out by Deloitte. They are not supposed to be used for commercial purposes. But when it comes to the private market in general and the way it organises its operations, we have no comment. We have some criteria in our contracts, but beyond that, no comment."
"Don't you think the public should be informed when it's a matter of how public money is being spent?"
"No comment," says Lysenstøen.
After checking the quotes following the interview, the directorate wrote in an e-mail to VG:
"We see in retrospect that the no comment response wasn't quite right in this context. It is our responsibility at all times to obtain the most possible child welfare services for the money within existing frameworks. In recent years, we have been successful in obtaining more effective child welfare services at lower prices when purchasing foster home services."
Mari Mets in Äripäev contributed research to this story
VG Rabattkoder
Et kommersielt samarbeid med kickback.no