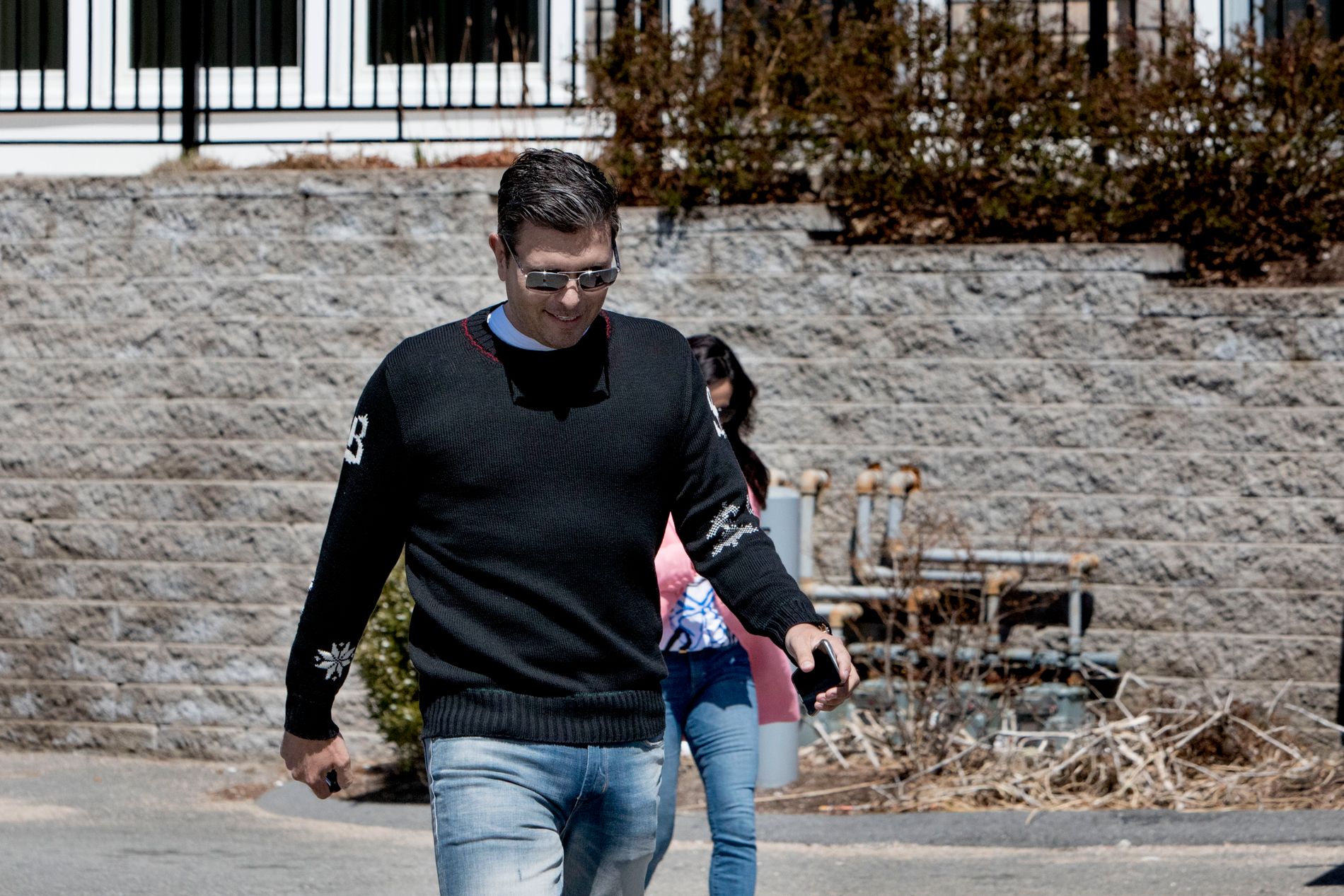 The court says he received millions from a norwegian widow. Now he lives in luxury in the U.S
NEWPORT, RHODE ISLAND/OSLO (VG) A Norwegian expatriate has been living the American good life in recent years. Oslo District Court thinks that Johannes Erskine Flø received millions of Norwegian kroner after a rich widow in Oslo was defrauded of NOK 17 million, or more than USD 2 million. The Norwegian police dropped the case against him.
ARTIKKELEN ER OVER ETT ÅR GAMMEL
In idyllic Newport on the east coast of the United States, a well-dressed Norwegian approaches on foot. His black sweater is emblazoned with a white dollar sign.
Johannes Erskine Flø, 41, owns fashionable apartments and business properties in Newport worth more than NOK 60 million, or about USD 7.5 million.
His own palatial home, with a swimming pool and private cinema, was purchased for NOK 30 million kroner (about USD 3.75 million).
Where did all the money come from?
NORWEGIAN VERSION: Police dropped the case. VG found him.
In a top-floor apartment in one of Oslo's most desirable neighbourhoods, near Frogner Park, a widow walks across the marble floor.
Over almost two years, NOK 17.1 million disappeared from 94-year-old Grace Hesselberg-Meyer's account. She thought the money was being invested abroad.
What happened to all the money?
Norwegian police suspected Flø of receiving proceeds from a crime but dropped the case due to the status of evidence after he moved abroad.
VG tracked him down to the U.S. state of Rhode Island.
In recent years the 41-year-old with a prior fraud conviction in Norway has enjoyed a luxurious lifestyle in the United States, mingling with film stars and high-profile politicians.
In Oslo, one of the rich widow's neighbours, Vidar Neverdal, was sentenced to almost four years in prison for having defrauded her.
However, some of the widow's millions also found their way to Flø, according to the judgment issued by Oslo District Court.
"The person in question was suspected of aggravated receipt of crime proceeds, but the case was dropped because of the status of the evidence. Investigating him would have required too many resources," says police prosecutor Knut Horn.
In the early 2000s, Flø was convicted of aggravated fraud.
Flø told Neverdal he'd been portrayed in the news media as a financial wheeler-dealer, and seen as disreputable.
"Flø denied being that way and said it was all a matter of misunderstandings," says Neverdal.
According to Neverdal, Flø neglected to mention that Oslo District Court had sentenced him to a year in prison a decade ago for tendering a check with insufficient funds to buy a luxury yacht for NOK 7 million (USD 875,000).
les også
Varslet politiet om Fløs telefonsamtaler: – Ba om at «gamlemor» skulle kjøres til banken
The judge asserted that Johannes Flø "... appears to have little insight into the situation he has brought about and the consequences of his use of improper means of payment".
On 16 August 2012 Neverdal transferred money to Flø's father for the first time. Oslo District Court concludes that the money was sent onward to the younger Flø.
In the course of 15 days, NOK 250,000 (USD 31,250) was transferred.
Shortly afterwards, Flø and Neverdal travelled to the United States.
"We went to meet people in the movie business. I got to meet a lot of famous people. That strengthened my belief that we would succeed," says Neverdal.
At the exclusive Four Seasons Resort in Arizona, Neverdal lounged in a warm swimming pool, drink in hand.
The Norwegians were supposed to meet Steven Seagal, the stony-faced actor who starred in numerous action films in the 1990s.
Neverdal was in high spirits. They would be discussing a film about the father of Pippi Longstocking, a beloved Swedish children's character, with Segal serving as both star and producer.
"Steven Seagal always carried a weapon," recalls Neverdal. "He went around with a loaded gun under his arm and a Rambo knife strapped to his leg."
On 25 September 2012, Neverdal signed a deal with Flø and Seagal and his film company to make the "Pippi's papa" film.
"Efraim Longstocking and the Cannibal Princess" was the working title.
The film was to have a budget of USD 100 million.
Seagal's "Steamroller Productions" film company was to be paid USD 500,000 within 30 days of signing the agreement.
According to the agreement, it was Neverdal who was to pay that amount. He would become the company's largest owner, receiving 45 per cent of the shares.
But everything has its price:
A clause in the contract gave Neverdal sole responsibility for raising money for the film.
That meant Neverdal had to go home to Oslo to find more money.
On 15 January 2013, Neverdal had a breakthrough. Over two days, the rich widow transferred NOK 5.5 million (USD 687,500) to her neighbour on the first floor.
Just over two months later, on 27 March, she transferred another NOK 8 million.
In between the two big transfers, Flø emigrated to the United States, according to the Norwegian National Registry.
Later, Grace Hesselberg-Meyer would explain why she transferred the large amounts:
"All the money Neverdal got from me was a loan to him that he was supposed to use to invest through Johannes Flø. The transfers occurred partly by bank giro and partly by Neverdal driving me to the bank and waiting outside," Hesselberg-Meyer said in her court testimony.
"It was always for investments through this Johannes person," said the widow.
There were no written agreements. Neverdal was enthusiastic and believed in the projects, the widow later explained.
According to Neverdal, whenever Flø needed funds for a new project he forwarded the widow's money.
Neverdal transferred NOK 7.7 million from his own bank account either to Flø or to his father.
Neverdal also withdrew NOK 3.1 million in cash from his own account.
les også
Politiet vurderer å gjenåpne etterforskningen mot Johannes Flø etter VG-avsløring
On one trip to the United States Neverdal met the country's former First Lady, Barbara Bush, and her son, the politician Jeb Bush.
Neverdal wore a big smile in the picture taken at a Hyatt hotel north of Naples, Florida, in February 2013.
Again and again, Flø came up with new and tempting investments, says Neverdal.
They travelled to Seattle, Washington, to meet with the giant online retailer Amazon.com, and visited the Arkansas headquarters of the world's largest company, Walmart.
"The idea was to help companies get established in the (United Arab) Emirates," says Neverdal.
The projects evaporated, as did the "Pippi's papa" film.
Instead, new opportunities turned up.
The next investment was alcohol: Lamborghini Vodka.
As Neverdal understood it, he and Flø were to invest in a company that had yet to be founded. The company was to be created in cooperation with "some interested parties from Russia and Hollywood people", Neverdal says he was told.
These people had supposedly bought the right to sell the use of the Italian luxury brand name Tonino Lamborghini.
Big plans were made for "Lamborghini Vodka". In three years it was seen capturing five per cent of the U.S. vodka market.
On top of that, a new Lamborghini energy drink would become a serious challenger to Red Bull, according to a prospect Flø sent by e-mail.
The company was also supposed to sell furniture, clothing, shoes and other luxury items in Russia, the United Arab Emirates and the United States.
In addition, Flø planned to establish shops and Lamborghini cafes as well as to build several hotels and exclusive marina homes within a 12- to 18-month period.
"The Fast and Serious Holding Company" was eventually registered in the U.S. state of Delaware. Among its owners was a familiar name: Steven Seagal.
The Lamborghini plans never came to fruition.
A Norwegian airline pilot also saw potential in Flø's prospects.
Andre Halvorsen, a Norwegian emigrant who worked for American Airlines, invested in the film fund in the spring 2014.
In late December of that year, Halvorsen sued Flø, claiming Flø had received USD 240,000 from him by way of fraud. Halvorsen alleged that Flø had done so with criminal intent, and had used the money himself.
Flø promoted the Tandem Film Portfolio Fund (TFPF) as an investment fund focused on the financing and production of Hollywood films, TV series and reality shows, according to court records.
"The fund does not actually exist," the lawsuit claimed.
After a three-year battle, Halvorsen entered into a confidential settlement with Flø, and the suit was withdrawn.
"I signed a confidentiality agreement with Flø. I'm prevented from saying anything at all," Halvorsen tells VG.
"A new standard for luxury condominiums on the Newport, RI waterfront," was the description given to Vanderbilt Residences when construction was completed in 2008 in the idyllic small city to the north of New York City.
Flø bought two of the 16 apartments in the fashionable complex. He has since sold one, and in late April 2018 the other was for sale, priced at just under USD 2.3 million dollars, or about NOK 18.5 million.
Flø's company, Bard Group, also owns nine units in another residential complex behind Vanderbilt Residences.
In all, the apartments and commercial properties have an estimated value of USD 8.1 million.
But not everything works as planned in Newport.
It began with a USD 1million loan to Flø's Bard Group from American businessman Michael DellaGrotta.
DellaGrotta did not get the money back and instituted legal proceedings that are still under way.
Legal documents obtained by VG reveal a heated dispute and serious accusations.
Flø told the court that two men came to his home in Lincoln, Rhode Island, late in the evening of 1 May 2016. The strangers told him to get out of Newport, he claimed.
He said they then started hitting him, and he fought back.
The unidentified attackers fled in a waiting van, he said.
Flø reportedly suffered an injury under his left eye and bruised ribs.
Flø linked the alleged assault to his ongoing dispute with DellaGrotta.
les også
Advokat: Flø sa han hadde lukrative filmrettigheter
Seven months later, on 12 December 2016, the two men met at a cafe in Newport. The tone was described as heated, with DellaGrotta demanding immediate repayment from Flø.
After the meeting, DellaGrotta was sent a small cardboard box. In it was the head of a porcelain horse, made to appear as if it were in a bed.
He took a picture of it and sent it to Flø, among others.
In a later court document, Flø claimed it was he who had been threatened by DellaGrotta, and submitted the photo as proof.
Flø considered the image a reference to the famous horsehead scene in the mafia-themed movie "The Godfather".
Behind a tall wrought-iron fence stands a palatial home with four towers, where Flø lives in a quiet residential neighbourhood that exudes luxury.
The stately home is a 10-minute drive from Rhode Island's capital, Providence. It has more than 760 square metres of floor space (nearly 8,200 square feet), three garages, five full bathrooms, a home cinema, fitness room, guest wing, two bars and a well-kept garden with swimming pool.
Flø's company paid USD 3.8 million for the house in March 2015, according to public records.
Flø drives out, at the wheel of a black Chevrolet SUV. In the passenger seat is his wife.
He stops and uses his cell phone to take pictures of VG's journalist.
In English, and then in Norwegian, he learns that we are journalists at work for VG.
"Hi, I'm Johannes," says Flø politely.
VG explains that we have interviewed his former business partner, Vidar Neverdal.
"Hmph," says Flø, and drives off.
Shortly afterwards, VG receives a text message from Flø.
"I have sued the person in question and cannot comment on pending litigation," he writes.
Nor does Flø wish to speak with VG about the Seagal movie or the apartments he owns in Newport.
"Again, unfortunately I cannot comment because those topics also concern a large and extensive lawsuit against Michael DellaGrotta and others," writes Flø to VG.
Flø denies having swindled the widow. He claims he was cheated by Neverdal and underscores that he has never been charged in the case.
Steven Seagal tells VG that he denies all connection to Flø.
Flø's Norwegian lawyer, John Christian Elden, issued the following statement on his client's behalf:
VG has presented Flø with a fully written article without the newspaper wishing to have a dialogue about any particular claim or to hear Flø's point of view prior to the angle and content being determined. VG has rejected any approach other than allowing him to give a formal response to VG's understanding of things.
A response is therefore presented in full here, and it is requested that it be published in its entirety:
Flø left Norway in 2007, and since then has lived in the United Arab Emirates and the United States.

Neither Flø nor his father were witnesses in the court case, and it was not their case that was examined. The District Court's descriptions in 2015 are summaries of Neverdal's testimony, in which he denied wrongdoing and claimed that the blame must rest with Flø.

Flø has never been charged by the Norwegian police in this case, but on the basis of Neverdal's testimony the police considered whether Flø should be investigated. Such investigation was never initiated, and there is no criminal case against him. This is confirmed by the police's own documents, which I have received today, 11 May 2018, and in which Flø is not listed as a party.

After learning of VG's allegations, Flø checked with the Norwegian Embassy in the United States to see if he was under police investigation or wanted for questioning, but this proved not to be the case.

Flø's father was questioned as a suspect because Neverdal transferred money that he had received from Hesselberg-Meyer to his account. The case was dropped because Neverdal had given the impression that it was his own money and the father had not been negligent or demonstrated intent when receiving the funds.

Neither the district court nor the court of appeal took Neverdal's testimony as conclusive, and his appeal to the Norwegian Supreme Court was rejected.

Of the some NOK 17 million Neverdal obtained from Hesselberg-Meyer, NOK 7.74 million was transferred onward via the Flø family. The rest appears to have been used for private or other purposes on Neverdal's part. The Withers law firm in London, which assisted in the police investigation, was able to confirm that USD 1.3 million (about NOK 7.4 million based on the 2012 exchange rate) was transferred onward as Neverdal's own investment in "Fast & Furious". Neverdal did not communicate or mention that he was investing on behalf of Hesselberg-Meyer.

Neverdal himself said in the police investigation that the "Pippi's papa" project was his idea and that someone he knew in Sweden possessed the rights. Flø can confirm that Neverdal communicated this.

Flø states that he has passport stamps that show he was not in the U.S. at the end of January 2014.

There are a number of other errors and inaccuracies in the article as submitted, but it is VG that must take responsibility for having correct information before choosing to go forward with it. It would be going to far in such a reply to address all of this given VG's lack of interest in having a dialogue about corrections or information before determining the article's angle and form.
Kommersielt samarbeid: Rabattkoder