A police officer working as a guard at Utøya island, where at least 86 people were killed, was among the victims according to VG sources.
Police confirmed at a press conference Sunday afternoon that there was a police officer present at the island during Friday's attack, but would not give any detailed information about his movements.
The suspect, Anders Behring Breivik (32), surrendered right after armed police arrived at Utøya island at 6.27 PM Friday.
- The suspect surrendered without resistance. He then had two weapons and a considerable amount of ammunition, police chief Johan Fredriksen said.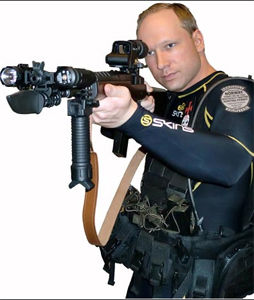 Breivik has confessed to being behind the bomb in downtown Oslo, and then have traveled to Utøya island disguised as a police officer, where he shot several youth activists dead.
Prior to the attacks Breivik posted a political manifest consisting of 1500 pages, portraying several right wing political views. It also contains photos of Breivik armed in uniform, one with a badge that reads «Marxist Hunter».
Another victim of the terrorist attack died in hospital Sunday, taking the total death toll to 93 people. 86 of the victims were killed at Utøya island.